Less than one week away, these pets are already prepped for the Fourth of July! Independence Day is clearly important to these cuties decked out in full red, white, and blue attire!
1)  This cool cat must be on his way to the White House!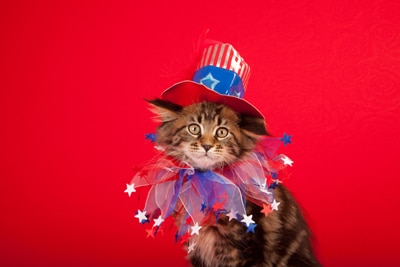 2)  This Bostonian is ready for hot dogs, hamburgers, and apple pie!
3)  Uncle Sam himself would've adopted this cat on the spot!
4)  These pups will likely be at the local parade, waiting for the firehouse and police dogs to throw out treats!
5)  Lil Bub may already be the cutest cat on the Internet, but her love of the U.S.A. is surely unmatched!
6)  It's Captain America himself! He'll be doing twice the celebrating as July 4th is the Captain's birthday!  (Gee, what a coincidence)
7)  And finally, the most patriotic pet of all, Stubbs!  Stubbs is the current mayor of Talkeetna, Alaska and even campaigned for the U.S. Senate back in 2014!  His active role in the government has us sure that this 19 year old cat's favorite holiday is Independence Day!
Which pet got you in the Independence Day spirit?  Let us know in the comments below!