Dr. Rhonda Smith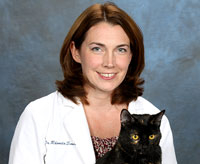 Dr. Rhonda Smith grew up in Brook Park and attended Berea High School and the College of Wooster. She earned a Bachelor of Science in Microbiology and a Doctorate in Veterinary Medicine (DVM) from 
The Ohio State University
in 2001.
She purchased Emerald Animal Hospital in Cleveland from Dr. Foy in 2011. In 2012, she purchased Sandstone Animal Hospital (previously Bagley Road Animal Hospital) in Berea from Dr. Randall. Dr. Smith is a strong believer in continuing education and is past President of 
The Cleveland Academy of Veterinary Medicine
. She has a special interest in low stress handling and is Fear Free certified.
Dr. Smith resides in Berea with her husband, two daughters, two cats (Princess and Quincy), and a yorkie (Darla). In her free time, she enjoys creative pursuits, nature walks, and attending her children's sporting events.
Dr. Soda Gray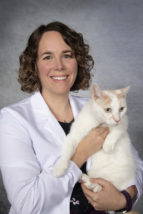 Dr. Soda Gray is a Northeast Ohio native. She earned a Bachelor of Science from the University of Pittsburgh and a Master of Science in Nutrition from Case Western Reserve University. After working in pharmaceutical manufacturing, Dr. Soda Gray returned to school and graduated from The Ohio State University with a Doctor of Veterinary Medicine degree in 2015.
She has special interests in nutrition, feline medicine, and low stress handling of pets. Dr. Soda Gray resides in Berea with her husband, son, two dogs (Moses and Miriam), and one cat (Eddie). In her free time, she enjoys reading, cheering for the Cleveland Indians, and playing the piano.
Linda, Registered Veterinary Technician
Linda has been in the veterinary medicine field since 1995. She graduated from the Veterinary Technician program at Cuyahoga Community College in 1998 and received her RVT license that same year.  At Sandstone, Linda manages the inventory and ordering. She takes pride in her laboratory and venipuncture skills and is always monitoring hospitalized patients and boarders to make sure they are happy, healthy, and comfy.
When not at work, Linda spends free time with friends, family, and her four-legged kids (3 dachshunds named Hazel, Hilda, and Wilhelm). She also finds joy in reading and relaxing, preferably by a pool…in Florida.
Iyonna, Registered Veterinary Technician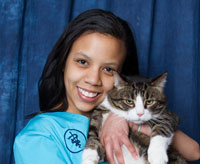 Iyonna graduated from the veterinary technology program at Cuyahoga Community College in 2015 and became a RVT shortly after that. Her previous experience includes working as a dog bather in a grooming salon. 
Since joining the staff of Sandstone Animal Hospital, Iyonna has become well-known for her low stress handling techniques and superior phone skills.  In her spare time, she pursues cooking, reading, and doing yoga. She currently resides in Parma Heights with her two girls and a 7-year old orange tabby named Crème Brûlée. 
Olivia, Kennel Attendant & Assistant
Olivia works at Sandstone Animal Hospital as a kennel attendant and is training to work as an assistant and receptionist.  
She is a senior at Padua Franciscan High School and will be attending The Ohio State University, where she will be studying animal science. 
Olivia was a dancer for eleven years and was a cheerleader in high school. She is currently a math tutor and has also worked as a lifeguard.  She likes to do yoga, go on bike rides, and build puzzles in her free time.
Chris, Veterinary Technician and Assistant
Chris began working in the veterinary field in 2007 and graduated from the Veterinary Technician Program at Stautzenberger College in 2009.  Chris joined our hospital's family in 2016 and has a special interest in emergency medicine and triage. He and his wife love to travel and have a big pet family of their own, including two dogs (Joker and Dakota), a cat (Tony), and a python (Marshmallow).
Emily, Receptionist & Assistant
Emily graduated from Ohio State University in May of 2017 with a Bachelor of Science in Agriculture after majoring in Animal Sciences with a specialization in Animal Biosciences. She is currently a Post-Bach student at Cleveland State University working towards applying to veterinary medical school in fall of 2019. When not in class or working at the animal hospital, Emily also has two part-time jobs, one at Mitchell's Homemade Ice Cream and another with a patent and trademark law firm in downtown Cleveland. She also volunteer at Berea Animal Rescue Friends and the Cleveland Metroparks Zoo. She lives with her family, which includes a Boxer (Rocco), a Goldendoodle (Gunner) and two cats (Mojo and Millie).
Chelsea, Receptionist and Veterinary Assistant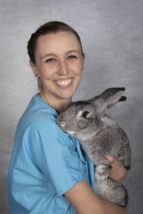 Chelsea joined the veterinary field in 2015 and plans on attending school to become a Veterinary Technician starting this fall.  Her love of animals started when she was just four years old, after adopting a cat that had a kitten; since then, she has cared for numerous abandoned, newborn wildlife.  She became a part of the Sandstone family in 2018 and has impressed us with her knowledge of exotic animals and their care. At home, she has two dogs (Bella and Walter), seven cats (Levi, Rosie, Sarah, George, Cicadia, Ollie, and Leah), plus two bunnies (Thorn and Jupiter).
Michelle, Veterinary Assistant & Receptionist
Michelle started working with animals in 2002 and joined our team in 2015.  She has extensive knowledge of animal reproduction systems. Michelle is a very active runner and spends much of her time with her two daughters.  She has also done an excellent job training her German Shepherd, Lacey.
Sara, Kennel Attendant & Assistant
Sara began working at an animal shelter in 2017 and started with Sandstone in 2018.  
She takes great pride in her care of animals and is quite inquisitive; she is always ready to learn, especially about animals.  She plans to attend veterinary school in the future. In her spare time, Sara pursues dancing, reading, writing, and cooking.
Jared, Kennel Attendant & Assistant
Jared became a member of the Sandstone family in 2016.  He has a strong interest in animal training, including the training of service animals.  Jared plans to join the army after high school to help further his education. He is an avid runner and regularly volunteers at local animal shelters.  Sadie is his adorable Pitbull/Boxer mix.
Kim, Receptionist
Kim joined our team in 2017 and she truly values developing personal connections with our clients.  She uses her free time to relax with a good book, walk her dogs (Koda and Rocco), and hang out with her family.
Megan, Groomer
Megan has been working with animals since 2005 and became a groomer in 2008.  Megan takes pride in her low stress patient handling; she loves to groom pets that are older or have special needs to make sure they feel both comfortable and beautiful.  She has two dogs of her own (Beau and Madison), as well as 5 cats (Vicky, Dillon, Gusteve, Herbie, and Mischa). Outside of the grooming salon, Megan pursues acting and theater and fills her spare time with live music concerts and scrapbooking.