Dr. Rhonda Smith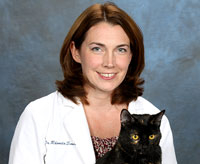 Dr. Smith grew up in Brook Park and attended Berea High School and the College of Wooster. She earned a Bachelor of Science in Microbiology in 1997 and a Doctorate in Veterinary Medicine (DVM) from The Ohio State University in 2001.
She purchased Bagley Road Animal Hospital from Dr. Robert Randall in 2012, and changed the name to Sandstone Animal Hospital. She also owns Emerald Animal Hospital in Old Brooklyn and is a past President of The Cleveland Academy of Veterinary Medicine. Every other Wednesday, Dr. Smith offers the additional service of house calls to Berea and the surrounding suburbs.
Dr. Smith resides in Berea with her husband, two daughters, and two cats, Princess and Quincy. Dr. Smith enjoys creative pursuits, nature walks, and playtime with her children.
Dr. Katelyn McMurray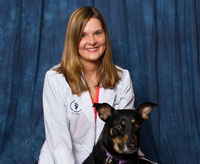 Since childhood, Dr. McMurray has had a passion for animals. She grew up in Poland, Ohio, a suburb of Youngstown, where she constantly cared for her family pets.  While earning her bachelor's degree in zoology from Kent State University, she worked as a veterinary assistant. Upon graduating in 2008, she was accepted into Ross University's School of Veterinary Medicine, located on the tropical island of St. Kitts.  She completed her clinical year at Purdue University and received her doctorate in 2012.
Shortly after graduation, she joined Sandstone Animal Hospital as an Associate Veterinarian. Although she enjoys all aspects of veterinary medicine, her clinical interests include preventative care, client education, and internal medicine. In her spare time, Dr. McMurray enjoys traveling (especially to the beach), horseback riding, and spending time with family, friends and her coconut retriever, Hope, a rescue from St. Kitts.
Tracy, Registered Veterinary Technician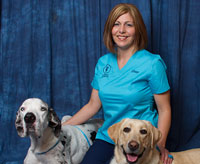 Tracy's love and compassion for animals began as a child growing up on a dairy farm in Seville, Ohio. She began her career in the veterinary field 17 years ago and is now a Registered Veterinary Technician. She graduated valedictorian of her class at Stautzenberger College.
Tracy is active in animal rescue and has fostered & rehabilitated many animals over the years. She has a menagerie of pets including a great dane, a labrador retriever, a one-eyed cat, an FIV positive cat, and a couple goats. She has a special interest in animal behavior and clicker training. Besides being the lead technician at the hospital, Tracy also manages Smith House Calls.
Iyonna, Receptionist & Assistant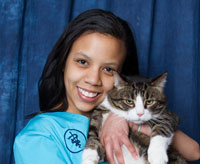 Iyonna grew up in Bedford and recently moved to Parma Heights to attend the veterinary technology program at Cuyahoga Community College. She has a special interest in radiology. Her previous experience includes working at a well-known grooming salon, where she bathed dogs of all different shapes and sizes!
Since joining the staff of Sandstone Animal Hospital, Iyonna is known for her superior phone skills at the reception desk. She is the mother of 2 girls. In her spare time, she enjoys baking, swimming, and watching movies.
Sarah, Receptionist & Assistant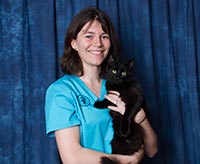 Sarah grew up in Ithaca, NY and moved to northeastern Ohio in 2008 to attend Baldwin Wallace University, from which she is a recent graduate. Sarah will be applying to veterinary programs in the fall with the intent of pursuing a career as a veterinarian in companion animal or equine medicine.
In addition to her love for animals, Sarah is an avid musician and has played the cello since a very young age.  Currently, she resides in Berea with her two cats, Dexter and Chloe. In her spare time, Sarah loves riding her horse, reading, and spending time outdoors.
Karen, Receptionist & Assistant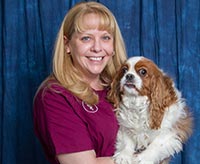 Karen grew up and still resides in North Olmsted. Her love of animals began at a very young age while watching her grandfather judge dog shows and breed Boxers and Shih Tzus. Her passion turned into a career in 1988 when she entered an Animal Productivity and Care program in Middleburg Heights. In 1997, Karen interviewed, hired, and trained Dr. Smith (before she was a doctor) for a receptionist position at a local animal hospital. Now, she helps Dr. Smith manage both Sandstone and Emerald Animal Hospital.
Karen married her high school sweetheart. Together, they have 2 teenage daughters, 4 dogs, and 1 cat. She has served on the Board of Trustees of the Cleveland Edges Skating Club for the past several years and currently holds the position of President. Her free time is spent watching her daughters ice skate on a synchronized skating team, reading, and enjoying the outdoors.
Sheila, Groomer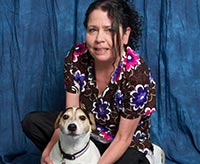 Animals have always been a big part of Sheila's life. She grew up in Seven Hills and has been grooming pets since she was 14 years old. She is a past horse owner and currently owns 1 cat, 2 rescue dogs, and 2 rats. Her son has reptiles, so Sheila is familiar with many different species. In addition to fostering all types of animals over the years, Sheila was also a foster mom for children.
Sheila was employed by Bagley Road Animal Hospital for 10 years before the name changed to Sandstone Animal Hospital. Now, she splits her time grooming pets at both Sandstone and Emerald Animal Hospital. The dogs and cats on the grooming table respond well to Sheila's calm and gentle nature. During her 30 years of experience, Sheila has learned that using baby talk sometimes goes along way with our furry friends.
Pet owners from Berea, Olmsted Falls, Middleburg Heights, Brook Park, Strongsville, and Columbia Station trust us with their pets. Our vets are very thorough, compassionate, and caring.