A Resolution for a Healthy Weight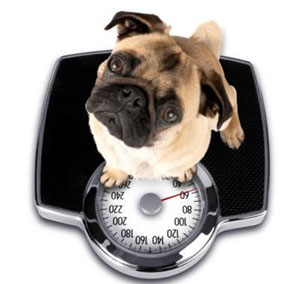 U.S. pet obesity rates continue to increase. A survey conducted by the Association for Pet Obesity Prevention (APOP) found 52.5 percent of dogs and 58.3 percent of cats to be overweight or obese by their veterinarian. That equals approximately 80 million U.S. dogs and cats at increased risk for weight-related disorders such as diabetes, arthritis, heart disease, hypertension, difficulty breathing, and many cancers. Simply performing a thorough physical exam can be difficult with the obese patient. Most importantly, overweight pets do not live as long and have a decreased quality of life.
Animals become overweight because they take in more calories than they burn. Making sure your pet is eating an appropriate diet for his or her life stage and activity level is crucial. Using an actual measuring cup to measure the amount of food your pet is consuming, as well as keeping track of extra calories in treats, can keep your pet on the right track to staying fit and trim. A routine exercise program will benefit your pet both physically and emotionally.
Schedule an appointment for your pet's FREE MEASURING CUP & WEIGHT ASSESSMENT with one of our technicians. We will weigh and measure your pet to develop an individual feeding guide and exercise program. If we determine your pet needs a prescription weight loss diet, you will RECEIVE 10% OFF in the month of January. Feel free to stop in any time to weigh and monitor your pet's weight loss progress.